Tropical Temptation
Adrianna is in love. Saric has been her anchor as she adjusted to her new life on the colony, and has held her heart ever since they first met: the worst day of her life, when he tended her injuries after the crash. He's already mated to a male named Duran, and although Adi doesn't know him as well, there's something magnetic about the tall, stoic Arathian.
After years of pining for the pair, Adrianna finally gathered her courage to tell Saric how she felt, only to have him rebuff her tender affections.
Now there's nothing tying her to Aeonas, so she reluctantly agrees to move to Arath alongside her roommate, Kaitie. Adrianna dreads the idea of starting over on a new, unfamiliar alien planet (again), but she longs to heal the ache in her chest, and leave her mistake behind. Her broken heart can't stand to stay near the male she loves.
Saric hates that he hurt Adi. But what else was he supposed to do when his mate has been adamant that he doesn't want a female in their lives? At the time, it'd been necessary to discourage her affections in order to protect her; but Saric's passion for Adi has only intensified, and now she'll soon be leaving.
Duran has good reasons for his stubbornness and refusal to become intimate with a female. He made them clear to Saric years ago, but now his mate has real feelings for Adrianna. Duran isn't immune to her appeal… her friendly personality, and those lush curves in all the right places, would tempt most males… but Duran is terrified of the repercussions of including a female in their relationship.  
She's a dangerous temptation… And she's not the only danger in the jungles of Aeonas.
Warning: this book contains explicit scenes of intimacy between three consensual adults: M/F, M/M, and M/M/F.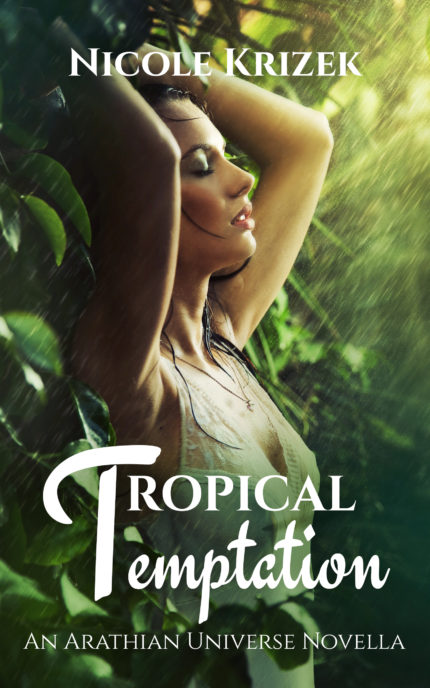 Buy eBook
Release Date: March 27, 2018
Published by: CreateSpace Independent Publishing Platform
Language: English
Page count: 115