Alien Incursion: The Arathians, Book 3
This is the 2nd edition of Alien Incursion—COMPLETELY rewritten and re-recorded, with an additional chapter!
Princess Jayda of Arath has everything she always wanted. Infertile like all Arathians, she didn't feel the need to find mates. Instead, researching cutting-edge spaceship technology for the Arathian Defense is her passion. But secretly, there is someone who's caught her eye…
Deian is an engineer who's been working at Jayda's side for months. He has a promiscuous reputation, but she can't seem to get him out of her mind, and she knows that he's the male she wants.
As things become heated with Deian, she meets Lukas Ferguson of Earth.
Lukas has spent his entire life hiding the fact that he yearns for the company of other men. But once Lukas arrives in their system, he finds the Arathians' overt bisexuality to be both a shock, and a relief.
After only a moment in his company, Lukas ignites deep arousal inside of Jayda… arousal that's shared by Deian… and one which stirs cravings that go far beyond her royal duties.
As passion ignites between the polyamorous trio, an old enemy arrives on Arath's doorstep — an enemy that may obliterate not only their chances at happiness together, but everything Jayda's ever held dear.
Warning: contains scenes of erotic sex, homosexuality, bisexuality, and heterosexuality between three consensual (and eager) adults. M/M, M/F, M/M/F
This book left me breathless, I was literally holding my breath at times, and turning blue towards the end I. did. not. see. that. coming.
Kindle Customer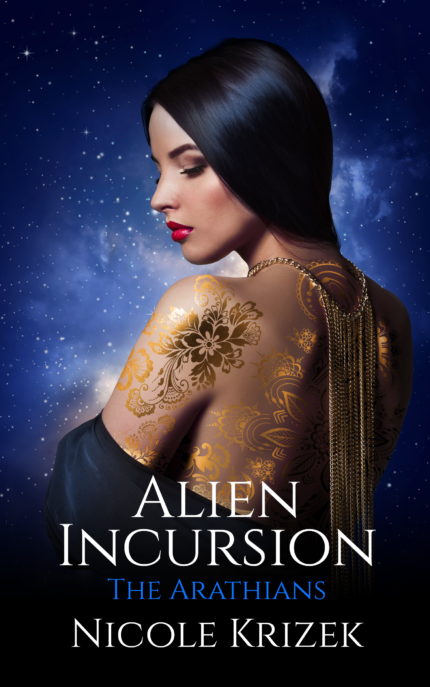 Buy eBook
Buy Paperback
Buy on iTunes
Buy on Audible
Published: November 17, 2014
Published by: CreateSpace Independent Publishing Platform
Series: The Arathians
Paperback: 240 pages
Language: English
Amazon.com Rating: 4.4
Audible Rating: 4.4