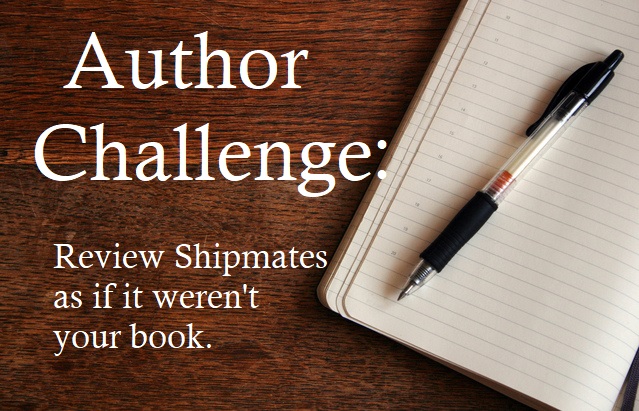 Author Challenge: Review Shipmates as if it Weren't My Book
Saved in: Journal
by Nicole
with Comments Off

on Author Challenge: Review Shipmates as if it Weren't My Book
Man… what a post for this week! I've been challenged to review Shipmates as if it weren't mine. Why did I agree to this?! I've never reviewed my own work before! I mean, I'm constantly judging my own stories to make sure they're good enough to be released to my readers… but nothing like this!
Okay, here goes…
Shipmates is the story of three people falling in love with each other on a alien colony. Ian is a freediver, and has lived on Aeonas since he was a child. He's used to hard work, long days, and a constant struggle for survival, but even then, he loved his life. Now that the Arathians have arrived with their technology, the colonists' lives are much easier.
Bilal is an Arathian who volunteered to stay on Aeonas to help the colonists. He believed this was the best way for him to help his own people, since Earthers were their only way of procreation. But found that he liked the slower life the colony provided.
Lauren was a passenger on the Earther plane that crashed. She can't return to her planet, so she's now living on Aeonas… basically like a tropical castaway. A city girl at heart, she's had a difficult time adjusting to her life on the colony, and their subsistence lifestyle.
All three are there for very different reasons, but come to realize that they have a bright future with one another.
Downsides to the novella:
— It's short. Many would say that it's too short. Hopefully the author will write more about the colonists on Aeonas. (I hear that she's already working on it!)
— Because of the story's length, we don't get to dive into a character's background, history, and family, like you would in a full-length novel.
— Some may not like the dominant personality that Ian takes on in the bedroom. His mates do, but it's not for all readers.
—Too many curse words for some people. The f-bomb is dropped more often than any of her previous books.
Upsides:
— The price of $1.99 is a steal for one of Nicole's books!
— You get to revisit Aeonas and see what the colonists have been up to in the past 3 years.
— Ian may be dominant in the bedroom, but it's realistic. He doesn't want to boss the other two around all of the time, which makes it alright when he takes on that persona.
— Consent! Nicole has always made this an important theme in her books, and Shipmates is no different. Consent in the bedroom is of the utmost importance for Ian, Bilal, and Lauren.
— The ending isn't wrapped up tightly in a little bow. I won't give it away, but Nicole doesn't tidy everything together, leaving room for their story to evolve as she continues to write novellas.