Alien Incursion: The Arathians, Book 3
Princess Jayda of the Arathians has fought hard to become a respected member of the Arathian Defense, which is charged with protecting the Arathian home-world against the dangers of the universe. Her pioneering work has led to the development of a revolutionary new spacecraft that travels like no other.
Jayda has everything she always wanted, except for the one thing she didn't realize she needed: a mate to share her life with. She suddenly finds herself next to two males that ignite a passion within her that goes far beyond her royal duties.
Deian doesn't care that he's built a promiscuous reputation over the years, but now he's bewitched by a Princess who makes him want to forsake all others. But will this devotion be challenged by the arrival of another male… or will it be strengthened?
Lukas Ferguson, former Army Specialist turned Air Marshall, has his life changed forever when the plane he's protecting is suddenly drawn into space by alien slavers. Once he's safe aboard the Adastra, how is he supposed to feel rescued if he can never return to his home-world? More importantly, when he's surrounded by Arathians who are openly bi-sexual, how is he going to continue to hide the secret part of himself that yearns for the company of other men?
The galaxy is a perilous place and as Lukas, Deian, and Jayda begin to form bonds and find unexpected pleasure in each other's arms, an old enemy arrives on Arath's doorstep; determined to cause the race's eradication.
This book left me breathless, I was literally holding my breath at times, and turning blue towards the end I. did. not. see. that. coming.
Kindle Customer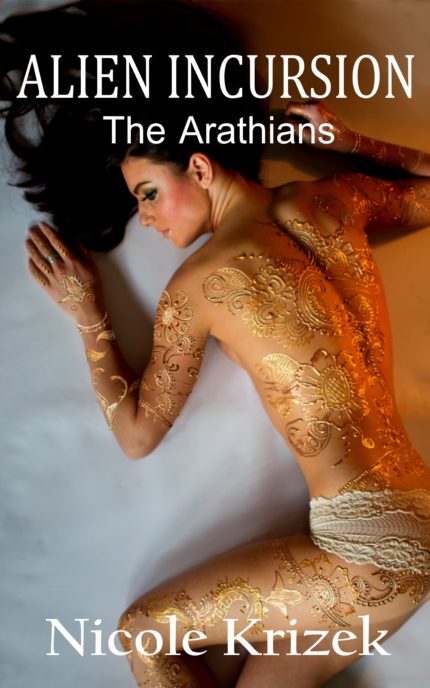 Buy eBookBuy PaperbackBuy on iTunesBuy on Audible
Published: November 17, 2014
Published by: CreateSpace Independent Publishing Platform
Series: The Arathians
Paperback: 240 pages
Language: English
Amazon.com Rating: 4.4
Audible Rating: 4.4